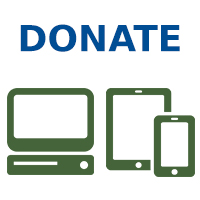 What can be donated?
Used cell phones and smartphones
Computers, Laptops, Netbooks, Monitors, Keyboards
Tablets, iPads, iPods, mp3 players
Rechargeable batteries
Circuit boards, speaker systems, cameras
You will receive an email within 48 hours documenting process & procedures to make your donation along with a prepaid shipping label:
For your security we delete ALL data from every item donated.
Making a Difference
Truly one man's junk can become another man's treasure.
Recycle With Integrity will take your donated Cell Phones, Android, Apple, iPods, iPads, Tablets, Laptops, Accessories and provide additional support to Not-For-Profits as we continue to expand the vision of creating an even greater Culture of Generosity as we Bless God's creation by keeping harmful technology from being carelessly disposed of in our local landfills.
Why Donate Electronics?
Recycle With Integrity offers businesses and consumers a Green charitable donation opportunity. Individuals & companies choosing to donate these items not only help the environment, but will also benefit the Not-For-Profit of your choice.
Cell phones (and other electronic devices) contain toxic substances such as arsenic, lead, cadmium, and beryllium that can pollute the air when burned in incinerators and leach into soil and drinking water when buried in landfills.
One cell phone can pollute up to 132,000 liters of water.
Cadmium can damage the kidneys and it is transferred through the air and through our food.
Lead accumulates in landfills and can cause damage to the central and peripheral nervous systems.
Mercury gets into our water supply and accumulates in living organisms and travels up the food chain. The principle exposure pathway is through our food and it causes brain damage.
Cell phone recycle campaigns are good for our environment because all collected cell phones and electronic devices are either refurbished or disposed of using only the most ecologically sound methods.
Charities You Can Support Through Donating Electronics